Arriving in Barcelona has meant becoming homeless for the first time in a long time. It's an odd feeling not having "that place" to arrive back at every evening. All this is made even stranger by our temporary dwelling having such charming features as a grand total of four forks and one pristine bidet. And no, I haven't gotten up the courage yet to give that porcelain appliance a try. It seems likely that when that day comes, it will not be one of my better days.
We've gotten many laughs over the last few months at the tangled results of our efforts to translate mysterious Spanish phrases using whatever online tool is the flavor of the day. Google Translate is the most popular choice, but when this useful tool decides to take a left turn, it's quite the wild ride. For some reason, descriptions of documentation needed for various tasks tend to feature a phrase that translates to weapon. I've heard many horror stories about dealing with the Spanish bureaucracy, but could hand-to-hand combat be part of the test?
These translation revelations are never more entertaining than when scanning apartment listings. I've learned so much in such a short period of time. For example, a couple of listings this week revealed that Air Conditioning is Cold. Who knew! And I was very tempted to schedule a viewing of the apartment described as "Shining for your height." If only there was time to fit it all in.
I've also seen a kitchen described as "Perfecto." I guess the poetic license among real estate agents to push the truth a tad is also available across the Atlantic, since said kitchen was lacking all appliances except an aging cooktop. As well, I'm hoping that it was simply a misstep in translation that suggested one flat had four bedrooms outside. Camping anyone?
Spanish apartments have many features that are a little foreign to me. Most definitely, I'll need to do some additional research to get comfortable with the more unique attributes that have popped up in the last few days, including aluminum parquet, wooden windows, parking for an enclosed car and three winds (does the weatherman know?).
And maybe my favorite description of all will definitely take some adjustment "In the evening we found a suite and two twin bedrooms sharing a bathroom." Is that legal in Spain? Google Translate is a lifesaver and, potentially, a threat to the moral fiber of the country.
If nothing else, all this levity does help one keep sanity through the pain of searching for a place to live. That and a certain five-year-old who never runs out of ways to delight, nor holas to dole out to surprised strangers. Here's to the simple joy of childhood found with the first tree climbed in Barcelona.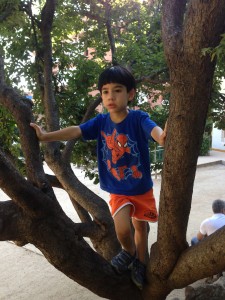 RANDOM THOUGHTS: I was bested today at understanding and speaking Spanish by a 5-year-old. I know it won't be the last time. Life is humbling… I popped the SIM card out of my phone (okay, the guy in the store popped out the SIM card), replaced it with a card from a Spanish carrier and voila! I'm now dialing like a local. Technology is wonderful (when it isn't driving us crazy)… I've gotten some of the key Spanish words for surviving cemented into my brain, such as bathroom and coffee, but for some reason the words for hardware store and socks are also sticking with me. It's going to make for an awfully interesting, albeit limited, session of small talk. (Do you shop for coffee and socks at the hardware store after your bathroom break?).