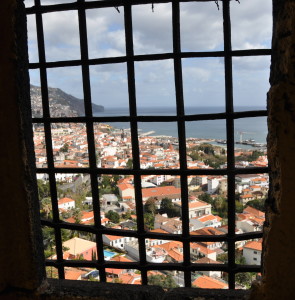 Our winter break to the Portuguese island of Madeira quickly developed a routine. That's not the first requirement you think of in a vacation but, as a parent, there are few things you appreciate more than routine. It's a word that has transformed meaning from the mundane to "thank god we have a routine established or we'd all be nuts" territory. Welcome to the Wonder Years.
Our daily routine in Funchal began by tussling with the other tourists in the breakfast buffet ("the eggs are out, the eggs are out!"), immediately followed by a lengthy respite at the indoor swimming pool for Liam to show off his new skills. Going somewhere sunny only to head indoors to the pool did feel rather counterintuitive, but after sticking a toe in the chilly outdoor pool, I certainly wasn't going to argue the point. The poolside loungers could wait for another day.
On that first day, it was with delight that we witnessed Liam confidently stride into the pool, floaty in hand, and promptly dog-paddle from one end to the other. Not being able to see his weekly hour of swimming after school, we had no idea whether his claimed swimming prowess was all talk or not. He's no Michael Phelps yet, but he was paddling as well as any furry friend I've ever seen. It was a proud parent moment.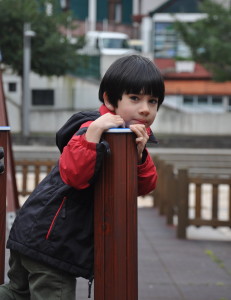 For three straight days after the morning swim, I wondered if we could select a good lunch in the midst of the old town. Funchal did not disappoint even once. A poor option was not to be found, and most were very good. The menu board convinced us to stop in at a little place called Espaco. Minus the lemon-faced waitress, it was an outstanding choice from the fish soup to sardines to meat. There really was some magic at work on this island.
All this great food was topped off by a recommended and excellent local favorite known as Arsenio's. The staff was so accommodating that I think I literally could have asked them to grill my left shoe and it would have come out moist and tender with a smile. A touch of live Portuguese Fado music in the background made this restaurant about as locally-grounded as it comes.
Our usual routine was finally broken up by some additional sightseeing. We did a short ride around Funchal via electric tuk-tuk that included a stop at the castle above the city. Dating back to the 1700s, it offered a huge view of the whole area, from a rising green mountain on one side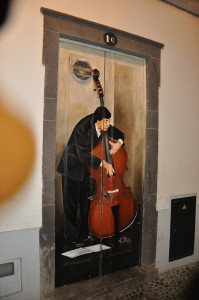 to a tide of pleasant orange-tiled roofs leading down to the harbor on the other.
We spent a day swinging to the western half of the island via minibus for a few breath-taking sights. Not for the faint of heart is the cliffside glass deck at Cabo Girao, where it feels like you are looking a mile downward at the rocky shore directly below your feet, suspended only by a thin pane of glass. We also drove across a mid-island plateau that sits at about 1,500 meters, high enough for the clouds to literally hang around you. I told Liam to open his mouth and swallow a little cloud. I think he's still trying to figure out if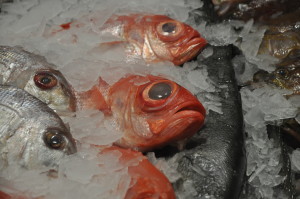 that's really true and, if so, does that mean the cloud is inside him now.
On the far northwestern end of the island are the natural lava pools at Porto Moniz, an interesting rock formation where the Atlantic waves pound the shore and fill the pools. It was a great cap to the trip to see more of the natural wonders of this charming island.
As we de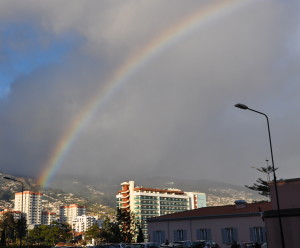 parted Madeira at the end of this latest short adventure, it was nice to reflect on the days. We were filled with memories of lively exotic fruit, salted cod hanging to dry, colorfully painted doors, narrow stone alleys and even a rainbow stretching to the green hills. At this stage of life, it really is a wonderful treat to be able to enjoy family and fine meals and nature at a pace we all enjoy. While my photographic skills may not put anyone to shame, I know we will still be able to look back at these images in years to come and know how special these days really were. One can't ask much more than that.
RANDOM THOUGHTS: There were countless good food moments, as you may already have noted, but one of the most interesting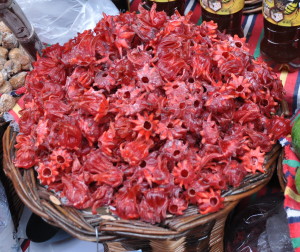 was trying a candied hibiscus flower. Unusual, but actually pretty good. That was a first… Flying on TAP Air Portugal was quite a pleasant surprise. They are a small airline, but still march out a snack and beverages even on short flights. We actually got into a mechanical delay before the second leg of our trip home, but TAP did updates every half hour and in the end drafted a plane from a sister operation to get us home. Any delay is painful, but this was a textbook example of how to minimize it. I wish the US carriers would buy the book and copy it… I was quite tempted to bring back a handful of avocados from Funchal. They really are that good. But I could just imagine the moment at airport security when the scanner showed a collection of small, firm pineapple-shaped objects in my luggage. I'm sure he has a lovely disposition, but I didn't need to meet the grenade-disposal robot on this trip…