Our time in Barcelona has been marked by doing things that we would do rarely or not at all in the US. The very urban environment has meant walking and hopping on local transit, not climbing in a car everyday for an errand big or small. It's an adjustment definitely, but at times kind of exhilarating. And a different world from the left side of the Atlantic.
We chalked up one more entry on that list recently with an all-day excursion via tuk-tuk. For those not initiated into the cult of tuk-tuk, they are a small, usually three-wheeled vehicle with a rather comical look, but are a highly-efficient mode of transport. They are common (and famous) in a big chunk of Asia, but have also started to catch on as a tourist diversion in places such as Barcelona. I spotted a rental special in Barcelona and thought, why not. No doubt, this makes the list of things we wouldn't do in the US, but hell, we're not in Kansas anymore, Dorothy.
Climbing into my new ride in the morning, the first thing that struck me was that small is an apt term for the tuk-tuk. Although these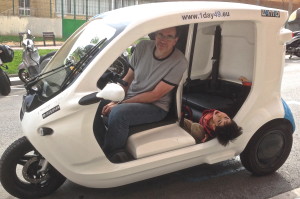 particular electric tuk-tuks are built in Sweden, they obviously still have the typical Asian frame in mind. Folding my North American-styled bulk into the cockpit felt about as comfortable as the middle seat in row 47 on just about any airplane today – with the added bonus of my noggin rubbing up against the ceiling.
The second thought to immediately strike me as we set off in our shiny new wheels (all three of them!) was that we seemed to be garnering a great deal of attention. Pedestrians, other drivers, office workers, tourists, delivery guys – these was a lot of gawking going on. As it turns out, the tuk-tuk is still a point of fascination on the roadways. In fact, late in the day, we drove by one youngster who let out an explosion of excitement running down the sidewalk that I'm sure his mother took him home for some fresh laundry afterward. From the reaction, you would have thought Emmit from The Lego Movie had appeared, was singing Everything is Awesome and passing out free toys in the middle of the street.
We had our day with the tuk-tuk all plotted out with a balance of touring around and errands. But just where do you go first with a Swedish-built tuk-tuk? Why, Ikea, of course. Meatballs and undersized electric cars aren't the only things the Swedes know how to build!
There's a bit of a learning curve to driving a tuk-tuk, starting with the fact that the controls are all on the handlebars instead of having pedals. In short order, my feet were dying of boredom while my hands were wondering what this was all about. I'd crank the throttle all the way open and the tuk-tuk accelerated fairly quickly up to about 40 kilometers per hour, but from there it doesn't really have the meatballs to get too much higher.
Thanks to the common lack of clear signs in Barcelona (and all of Spain, for that matter), I suddenly found myself on the ramp to one of the main four-lane thoroughfares in the city, which is not exactly an ideal road for a "car" not much wider than a pudgy horse. I was cranking the throttle for all it was worth and watching the speedo barely sneak past 45, a steady stream of real cars sailing past in the left lane. I don't think the tuk-tuk was too happy a camper at this moment, and it wouldn't be the last time today.
I wouldn't go so far as to say we were hard on our little tuk-tuk, but we definitely maxed out its skills on a couple of occasions. The afternoon errand to stock up on bottled water comes to mind. With the back seat topped up with 80 liters of water, our little go-getter literally crawled up the ramp from parking area with an audible electric gasp and wheeze, if that's possible. In just the remaining seven blocks (albeit slightly uphill) back to our flat, I watched the charge gauge decline by a full 7%. Safe to say, tuk-tuks much prefer being smiling, happy small people movers than the bearers of dead weight. Maybe that's why they haven't caught on in the US.
The water adventure put us in the danger zone of running out of power before the end of our day. Although the range of the tuk-tuk is said to be about 50 kilometers, it was looking like we would be lucky to get 30. As we picked Liam up after his Friday swim, I mentioned we might need to get out and push this thing the last mile. The look of horror on his face pretty much sealed the fate of the tuk-tuk. If they do start selling these things here, it doesn't look like I'll be a buyer. My cramped toes and sore behind from the plastic seat were not too upset about it.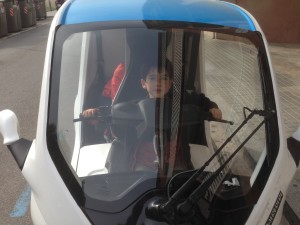 We headed back towards downtown to return the tuk-tuk and end the day's adventure with the gauge showing the power rapidly descending into single digits. Fortunately, the many hills of Barcelona were sloping in our favor this time and I took advantage to coast and get us a little closer to the finish line. We arrived with a generous 3% charge to spare. No pushing required.
The final reviews of the tuk-tuk were mixed. Once I got used to the funky throttle and brake, it actually was a hoot to drive. The lack of doors meant it's not so great for chilly days, and on a grocery run, you have to be careful not to send a salmon airborne by taking a turn too sharply. The biggest drawback is the reality that it is seriously overshadowed by every other car, meaning there's always the thought in the back of your mind that you're about to get nailed by a less attentive driver.
I'm not a full convert to the cult of the tuk-tuk just yet, but I'd recommend taking one for a spin. It's not a bad way to waste a sunny day. And we ticked one more off the list of things we never would have done back home.