It is a cliché, but it's also true that the years when your kids are young go rushing past in the blink of an eye. I could swear we were just celebrating Liam's first words and first steps and suddenly there he is under a paper cap celebrating his kindergarten "graduation."
If you looked up chaos in the dictionary, I'm guessing there's a picture of the graduation of 18 kindergarteners – all crammed in a small, square room with about 25 oohing parents. At any given moment, a half dozen are looking at the ceiling, a few are checking out their feet, one is on the edge of tears with that wild-eyed look of terror that only a parent understands, one has a finger up their nose, one has a look that may indicate a potty issue, one has just discovered they have pants and, miraculously, one is paying attention to the program. Of course, that last one is because his/her name was just called. In other words, it's better entertainment value than any epic that Hollywood has released in years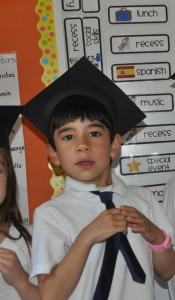 The hour-long graduation, bursting at the seams with as much parental pride as childhood enthusiasm, gave every one of our youngsters a chance to celebrate their accomplishments. Each beamed with pride as their name appeared on screen and they received a graduation certificate, but their joy was even greater as they showed off the planets they had cut out and painted by hand and sang about the solar system. These six-year-olds could already put mom and dad to shame with their knowledge of the planets above.
It's astounding how much they have accomplished in the last few months. In the span of a few months, their workbooks advance from a few halting, awkward letters to nicely written sentences. Stories go from a few stick figures to grand tales. And confidence levels have climbed from nervous statements to the ability to pretty much do anything. Just ask any of them and the answer will be, "I know how to do that." The boundless confidence of youth has been borne!
So, enough though it feels like we barely just arrived, suddenly kindergarten is passed and our first full summer in Barcelona has begun. And what does summer mean? Why, road trip, of course!
We are part way through our first official summer road trip in Spain, starting with a quick loop through a little bit of southern France, a stop in the tiny burg of Andorra and then back to Barcelona for a quick rest before heading south. Let me throw in a few observations of our travel so far.
The center of the ancient French town of Carcasonne is a hilltop that has been occupied for nearly 6,000 years. Now, it is one of the last fortified cities in the world with the town totally surrounded by the centuries-old walls. The narrow streets of the old town are still lined with restaurants and shops as it has been for nearly a millennium, making for a really great backdrop to pick a spot and dine. This was one of the most interesting spots we have visited
Pretty much every place we have traveled to Spain or France is marked by Roman ruins, such as leftover bits of walls, an aqueduct or some other such remain. Along with the fact that it's hard to believe the Roman empire reached so far, I can't fathom how much building these guys did. I swear the life of a Roman soldier must have been march a long way, stop, build something and then march a whole lot further. These were one industrial people
Our little amble through southern France to Carcasonne and Toulouse before reaching Andorra was most noteworthy for beautiful, rolling countryside occasionally marked by little hamlets. France is a really stirring country
France has a lot of nice and helpful people. That said, it's also not that tough to find someone who lives up to the French stereotype. They have built an enviable society, but not always as the most accepting
All I'd heard about Andorra was concentrated on skiing and sales tax free shopping. After a day there, that pretty much seems accurate. I'll add that the Pyrenees driving into Andorra are breathtaking – but I wouldn't want to do that drive in snowy conditions.
The driving part of road trips often is not that interesting, but it can be  improved greatly when a six-year-old gets on a good roll. Maybe the most interesting moment over the last few days was Liam telling us he and his wife will have 10 kids, but he intended to leave home to go off and work for the first eight years after getting married. Can't wait to see the look on his face the day we explain that those two equations don't quite add up
Liam also has a remarkable knack of knowing how to dress for the occasion. For example, he determined a t-shirt and a tie are the perfect ensemble for the Egypt museum. And he insisted on donning a jaunty fedora the exact day that we ran into a display of old cars. My little mobster.