Adding to the growing list of statements that I never thought I'd write, the other day an ostrich attempted to eat my rental car. I'm giving him high marks for determination, even if his end result was rather weak.
With summer break rapidly coming to a close, we took a quick trip north last week with a stop in southern France and a couple of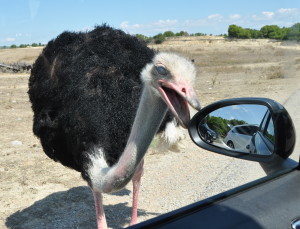 days at the beach in the nearby Costa Brava. The France swing was to visit a safari attraction known as Réserve Africaine de Sigean.
Part of the reserve is designed for self-drive, with the rest set up more like a traditional wander-through zoo. I figured the self drive would be a big hit with a certain six-year-old, although I have to admit I had visions of a certain safari attraction back home when I was a kid where the monkey population appeared to have been trained to tear the windshield wipers off every car that passed through. Did I get the full insurance on this car?
Fortunately, the monkeys were at bay at this reserve, but the ostriches were more than happy to mix with the visitors. The towering fellow who targeted our car stationed himself in the road for maximum effect with every car that passed, then proceeded to peck windows or attempt to eat side-view mirrors at whim. He certainly seemed convinced that he could dismantle and swallow a couple of pounds of plastic. For proof of his determination, I testify to the five minutes I spent scrubbing teeth scratches off the mirror after we parked. That seemed the wisest course of action when compared with trying to explain teeth marks to the rental agent upon returning the car. I didn't envision that conversation going well.
Along with the entertainment of the ostriches, the drive through was a great experience with gazelles, zebras, giraffes and gnu wandering the fields around us. There was also one lone bear in his own unexplained, penned area. Not sure where in Africa one finds a bear, but he looked relatively content with the arrangement anyway.
Back in the zoo portion, the usual suspects could be found including some dusty elephants, swinging chimps, light-footed lemurs and even a bevy of happy-to-be-petted-but-prefer-to-be-fed goats. It was a good afternoon's adventure to Africa only a couple of hours from Barcelona.
The Costa Brava is the beach destination of choice for those fleeing Barcelona in August. A couple of towns along this stretch (starting less than an hour from the city) remain very Spanish and brimming with locals, while a couple of others like Lloret de Mar and Tossa de Mar are more developed with transient hotels and see more internationals. In Lloret, for example, half the restaurants have Russian menus thanks to the influx of well-off Russian travelers. A number of the hotels also specialize in cheap package tours for Brits and other northern Europeans. It's quite the mixed bag of languages on any given day, although it does mean wide use of English as a common denominator among all the other languages.
The beaches are long, wide and inviting. It's a great option for a getaway close to the city, but be prepared for a few eye-opening sights. I expected guys in speedos, but not so much the willingness to just throw them off and change in the middle of the beach when swim time has concluded. I also expected some ladies to opt to go topless (note that this is not necessarily a complaint), but when a 60+ grandma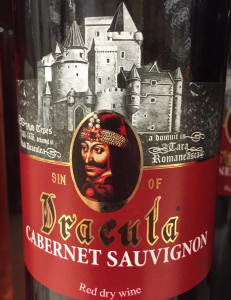 wanders by without a stitch on as she heads to the water for a dip, well, that's a little more knowledge of her world than anyone really needs.
RANDOM THOUGHTS: Adding to the list of colorful labels I have spied here (still love "Wash Me" detergent) is this label for a Romanian red wine. Who better to cash in on a famous local like Dracula. Beware, the real terror maybe the taste… Hard to get used to how different construction standards are here. They don't use a single stick of wood framing in buildings, but instead pour concrete for everything. No doubt, it's pretty strong, but I'd hate to misread the blueprints and have to go backwards…