I never cease to be amazed at how livable Barcelona is for a major city. I give a lot of credit to city leaders for making Barcelona a great city, since it's a real balancing act having a lot of people in a limited space and still maintaining working order and enjoyment of all the things that motivate people to come to a city in the first place.
Despite it's population, Barcelona rarely feels overly crowded. Go down to the main tourist district on a nice day and there are crowds, but much of the rest of the city is fine to move around. The great transit system undoubtedly plays a big part in this. Simply put, most places are pretty simple to get to via metro or bus. And the fact that most buildings have underground garages means there's not a logjam of cars everywhere. You're a lot more likely to see a viral video of two people going postal over a parking place in London or Los Angeles than Barcelona.
Spain may have a laissez faire reputation, but clearly the city leaders here put a lot of time and effort into managing how the city operates. One of their big focuses is boosting sports and culture. It's no exaggeration to say there is always something going on in Barcelona, from neighborhood festivals to music events to parties with virtually every theme imaginable. Nearly all these events are backed by the city and they all share one goal: get a bunch of people together in a friendly setting and let them enjoy life.
Last weekend, Liam and I ventured out to an oddball attraction known as Autos Locos, created by the colorful folks at Red Bull. In reality, it's simply a modernized soap box derby with TV cameras, a honking big sound system and a lot of edgy people, thanks to the fact that Red Bull is the only fluid being sold on a warm day. There's definitely some irony in the fact that people can no longer queue up for the iconic Spanish sport of bull-fighting (now banned in these parts), but instead line up for an adrenaline shot of Red Bull instead. Looking at the ingredient list on the side of the can, bull-fighting probably did less damage to fewer people.
The event was three hours of hijinks on an elevated stage near the top of Barcelona's famous Montjuic as costumed teams pushed out their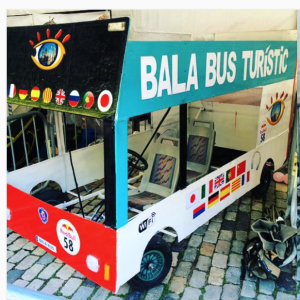 oddball cars and then let 'em roll down the hill. Many of the competitors work on these cars for months and the creativity came through in the form of a rolling hospital bed, a miniaturized tourist bus, giant ducks, a bumble bee, a shark and even a dude sitting on the crapper (otherwise known as a caganer in Catalan). I think the team who built this last one may have some issues, but that's a much longer story.
Liam's personal favorite was the team of four minions, who performed a rather unchoreographed dance at the start line before pushing their giant banana car off the line. I'll chalk them up as memorable since 100 yards down the track the wheels literally fell off, leaving a disgraced minion sitting in a stationary banana. They get my vote for making the highlight reel.
As events go, it's not exactly the excitement level of the Super Bowl, but it does say a lot about how the Spanish enjoy life. Thousands came out not for the silly cars, but simply to take a seat on a hillside, have something to eat or drink, mingle and enjoy a nice day. The event was a huge hit while the majority of attendees barely noticed the silly cars, and further proof that no one is as good at enjoying life as the Spanish. City leaders are clearly backing a winner, and adding more fuel to the claim that Barcelona is a great city.
RANDOM THOUGHTS: I hope I wasn't the only one to get a good laugh at of the story explaining how Norwegians have adopted the word Texas into their language to mean crazy… According to reports, there was an earthquake about 100 miles north of Barcelona last week, measuring about 3.8. Can't say I noticed, but some others claim to have felt it. I've been through one in Maryland and have little desire to experience another… I was chasing some extra freelance work lately on a website built for that purpose. It's actually a rather grim glimpse into humanity. There's an unending stream of people who want someone to write their "unbelievable" life story, but also lots of even odder requests. There's the mother who wants someone to write her daughter's college entrance essays, the secret lover who wants a eulogy for a coming out at a funeral that promises to be memorable and the soon-to-be felon who wants a letter for the judge expressing that he really is more responsible than the DUI charge suggests. You can't make this stuff up. Truth is far stranger than fiction…