I think I know how the people of San Francisco feel. Okay, maybe that's a bit of an overstatement, but, trust me, Barcelona has one hell of a lot more hills than I imagined before moving here.
Think I'm exaggerating? Not hardly. Venturing out here is not only an exercise (forgive the pun) in figuring out the best route to get somewhere, but also in figuring out how many hills may stand in the way of the journey. Smart planning means finding a bus/metro up the hill and saving the walking for the return trip. After a year of facing a hill every morning on the walk to Liam's school, I can firmly attest to the importance of good transportation planning. And decent shoes. And a treat to distract a six-year-old from the remaining 1000 steps upward.
I recently saw information on a cool new business venture, essentially a whole mini coffee stand on a bicycle. It's brilliant and I have to admit being tempted, but clearly it's designed for flatter lands than these. If I had to wheel that thing up some of these hills, the accident report wouldn't be referring to tires when it listed a blow out.
So despite already having an almost daily hill challenge, Liam and I did volunteer for some extra climbing last weekend to check out a viewpoint that has become a favorite with some locals and the occasional tourist. Of course, the first step was cautious planning, because picking the wrong bus would leave us with a climb that inevitably would end up with someone crying. And Liam probably would be upset, too. Not to mention the fact that starting farther away from the target exponentially increases the likelihood that the GPS directions will aim us closer to Times Square than any Barcelona landmark. A baffled GPS app is par for the course here.
Known as the Bunker of Carmel, the site is a very reasonable climb as long as you pick the right bus stop. Interestingly, the walk up curves through a small residential neighborhood that is pretty much clinging to the side of a hill in precarious fashion. One wrong step off the deck of any of these houses and you wouldn't stop rolling downhill for a week. The locals must be teetotalers or at least not prone to sleep-walking if they have a good sense of self-preservation. I'd probably tie myself to some furniture if I lived there.
Once we reached the top of the hill, we found a few dozen Spaniards sprawled across the concrete apron and hillside, checking out a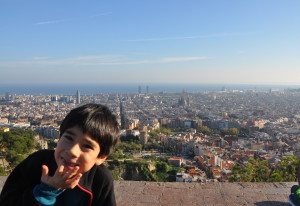 view that is clearly worth a million bucks. The bunker is actually the remnants of an observation point that dates back to the Spanish Civil War, designed to alert the city to air attacks. Fortunately, that's no longer a worry, but the panorama of the entire city is every bit as noteworthy. The entire main part of Barcelona all the way to the harbor stretches in front of you, with the sprawl north and south going as far as the eye can see to the right and left.
As I sat a little mesmerized at all that lay out below, Liam immediately began concentrating on creating his own mini flip book with a story on spaceships. I stopped to ask him if he liked the view. "Yup," he replied without even looking up from his work. Impressing a six-year-old is no small feat, but he was quite happy with his newly-created storybook, so that's a pretty big victory in itself.
We lounged among young couples, families and phone-obsessed teenagers for about an hour and enjoyed a nice moment high above most of Barcelona. Sometimes a big view makes all the other challenges of life seem that much smaller. And in the Spanish way of thinking, nothing is ever so big that taking it easy for a while doesn't make the day so much better. Maybe hills aren't so bad, after all.
RANDOM THOUGHTS: As I have mentioned before, ham is a big deal in Spain. In fact, I'm not sure any other product inspires as much discussion, interaction and (literal) dissection. I stumbled on an interesting article the other day with considerable detail on how to store and care for your ham, including the entire legs that are commonly sold here. The key takeaway of the instructions is that ham needs a consistent temperature, limited light and no proximity to strong smells or odors, so the best place to keep your ham is the living room. I have to admit it sounded a tad novel to have an entire pig leg in the living room, but I guess that's no stranger than an entire deer or moose head that some people choose to display. Definitely, an interesting conversation piece… I'll also pass on a link to a funny list given to me the other day, detailing 58 things that drive a Canadian crazy. I can attest to many of these… And, lastly, I'll give kudos to John Oliver for his rant on those behind the sad events in Paris. We need his humor, and his encouragement, and his honesty in the face of such ugliness. It's easy to be angry and join the throng demanding that we blast them all off the face of the Earth, but isn't invading and bombing them how this whole mess was inspired in the first place? Even though it is an unfortunate reality that there are times when war is inevitable, it's tough to support making it the first recourse. That strategy hasn't been paying off this whole century. Just my two cents…