With the time changing and the leaves starting to pile up on the sidewalks, fall is clearly here in Barcelona. I swear I barely had a chance to assault the world with views of my pasty legs before summer sprinted off into the sunset. A few eyeballs saved, at least.
The past couple of months seem like a whirlwind as we did a little more exploring and then settled back into the normal routine of the school year. There's a few things I want to touch on that have been rattling around in my brain, covering a mix of sights we've seen and things we've experienced. It's a hodgepodge, but hopefully still a little entertaining.
We spent a recent Sunday in the Spanish town of Cardona, which is famous for having a rock salt mine that was the largest in Europe for decades. The town's history dates back centuries, largely driven by salt being such a valuable commodity for so long. It's not gold, but it seems like nearly as many battles have been fought over it. A tour of the Muntanya de Sal (Mountain of Salt)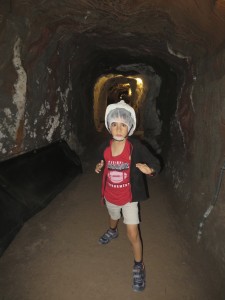 includes a wander down into the former mine where salt drips to form remarkable stalactites and stalagmites. Seeing Liam in hard hat being the little miner for the day was clearly the highlight, but the salt formations were pretty spectacular at times also, depending on the lighting. It's a good day out from Barcelona.
I have theorized in the past that Starbucks produces just a single board listing their prices and then uses it in stores everywhere. Only the currency changes. A large latte is four Canadian dollars in Toronto, four US dollars in Washington, four euros in Barcelona and four pounds in London. Well, a quick trip to Geneva has dispelled this belief. The Swiss city felt more like Tokyo as I realized the board listed the price as 7 Swiss francs (not 4), which is about $7 US. That's one dear cup of joe.
Along with coffee, I got a quick fix of hockey in Geneva by seeing a Swiss league game. The team is actually part-owned and coached by Chris McSorley, a name that may be familiar from his brother Marty's long stint as an NHL tough guy. The fans were quite into it and it was a decent level of hockey with a few borderline NHL guys on the ice. But I was horrified to see that they installed a small cheerleaders stage instead of seats in one corner of the arena. Everybody likes a cheerleader, but no Canadian worth their salt would give up prime seats against the glass for some pom-poms.
I have to wonder how people manage in Geneva considering the prices I spied. The city is famous for being home to the United Nations and the Red Cross, but bureaucrats and non-profit workers are not typically among the higher paid employees in most cities. Maybe that rule doesn't hold true here and they can make a $20 hamburger meal work.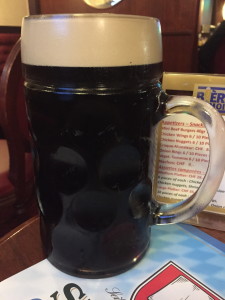 Seeing the cost of things in Geneva, it was even more surprising to stumble on a pub that specializes in large. Not satisfied with just a pint, they sell beers by liters – all the way up to one tub that would be about a gallon. Take my word for it, a liter glass of Guinness is a pretty impressive sight. What one would do with a gallon, I have no idea.
It's still odd, but it's become commonplace to spot little flocks of parrots loose in the city of Barcelona. I did a little homework and it turns out these birds, which are about the size of a pigeon, are actually a type of parakeet that is not native to the area. A small number were let loose by people years ago and have now turned into a thriving colony. They look just like a small parrot and have the same high-pitched screech that seems particularly appropriate so close to Halloween. There were around 40 of them perched in a tree I walked by the other day and their calls were nearly deafening.
As I delve deeper into driving in Spain, I'm becoming more of a fan of roundabouts. They are pretty efficient at keeping traffic flowing, although it does become wearisome when there's one every half-mile on a long, straight road and the GPS drones on with the same keep turn right to go straight instruction. I did find some hysterical pictures of roundabout fails. In a couple of towns down south, the planners and constructors of roundabouts appear to have had a lack of communication during the construction process, leading to roundabouts being built tightly around a church in one place and the town pool in another. You definitely have to keep your head up after prayers or a dip if you want to make it home safely.
RANDOM THOUGHTS: Very cute story in the news the other day from a reporter that was there for new Canadian Prime Minister Justin Trudeau's first ever comment to the press. The new leader had just turned two years old on December 25, being carried by his father into the hospital to meet his new brother, when he told reporters, "Merry Christmas. Happy birthday." The Trudeau family charisma carries on…